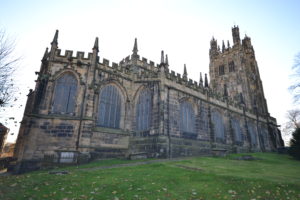 A visible and active Christian witness at the heart of Wrexham
THIS WEEK
Monday 30th 8.30am Ministry Team Prayers and Meeting; 10.45am Management Team Meeting; 6.30pm: Psalms Course
Tuesday 31st 9.30am Grounds Team; 1pm Craft Group; 7pm Bells
Wednesday 1st 10am Babes in the Pew; 5.15pm Eucharist; 6pm Weddings Office
Thursday 2nd 11am Eucharist; 12pm Volunteers' Lunch; 7pm Receiving of Rev'd Gerald Griffiths
Friday 3rd 12pm Requiem Eucharist: The Rev'd. Gerald Griffiths
Saturday 4th 9am Me and My Dad
NOTICES
INTRODUCING THE PSALMS The course led by our Vicar Jason continues tomorrow (30th) at 6.30pm, when the focus will be on individual laments, and cosmology and the afterlife.
PRAYER GROUP There will be a meeting on Thursday (2nd February) at 7.15 for 7.30 at the home of Barry and Elizabeth. Everyone is welcome.
READERS The next programme of Readers for the11am Holy Eucharist services will shortly be drawn up. If you would like to be included, please see Joanna Spalding, who will be very pleased to add you to our list.
MOSQUE VISIT The 3rd National Visit My Mosque Day takes place on Sunday 5th February between 11am and 3pm, when all are welcome at the Mosque at 6 Grosvenor Road. Guided tours, refreshments and questions/answers are included.
ME AND MY DAD The monthly breakfast session for fathers and children continues on Saturday (4th February). All are welcome.
MEN'S SOCIETY The next meeting will be at 7pm on Tuesday 7th February in the South Aisle. The speaker will be the Rev'd. Jane Stephenson, and her subject will be "Bargain Hunt".
100 CLUB December winners: 1st Emily Rood 2nd Mr Fred Palmer 3rd Mr Neville Morris
PLEASE STAY FOR REFRESHMENTS AFTER THE SERVICE
SUPPORTING ST GILES': We are grateful for all gifts. To give a one-off gift: https://my.give.net/20192827/Donate/GiftDetails. Or a monthly gift here: https://www.give.net/20192827/regular
29th January 2017 The Fourth Sunday of Epiphany

All baptised Christians are welcome to receive communion with us, or you may come to receive a blessing.
SERVICES
8am Said Holy Eucharist
11am Sung Holy Eucharist
HYMNS
336 All my hope on God is founded
235 O Jesus, I have promised
238 Blest are the pure in heart
172 Glorious things of thee are spoken
COLLECT
Creator God, who in the beginning commanded the light to shine out of darkness: we pray that the light of the glorious gospel of Christ may dispel the darkness of ignorance and unbelief, shine into the hearts of all your people, and reveal the knowledge of your glory in the face of Jesus Christ your Son our Lord, who is alive and reigns with you and the Holy Spirit, one God, now and for ever.
OLD TESTAMENT 1 Kings 17: 8-16
PSALM 36
5 Thy mercy O Lord reacheth / unto · the / heavens: and thy / faithful · ness / unto · the / clouds. 6 Thy righteousness standeth like the strong mountains, * thy judgements are / like the · great / deep: thou Lord dost / save both / man and / beast. 7 How excellent is thy / mercy · O / God: the children of men shall take refuge under the / shadow / of thy / wings. 8 They shall be satisfied with the plenteousness / of thy / house: and thou shalt give them drink of thy / pleasures · as / out · of a / river. 9 For with thee is the / well of / life: and in thy / light do / we see light. 10 O continue forth thy loving‑kindness unto / them that /know thee: and thy righteousness unto / them · that are / true of / heart.
NEW TESTAMENT Corinthians 1: 18-31
GOSPEL John 2: 1-11
NEXT SUNDAY'S SERVICES: The Fourth Sunday before Lent
8am Said Holy Eucharist
11am Sung Holy Eucharist
6pm Cymun Bendigaid
Readings: Isaiah 58: 1-9a 1 Corinthians 2:1-12 Matthew 5:13-20