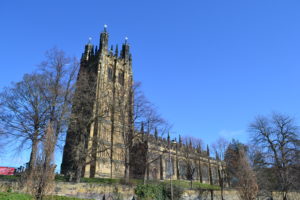 8.30am Ministry Team Prayers and Meeting; 10.45am Management Team; 1pm Diocesan Meeting (Glass Room);
5pm Fundraising Meeting; 6.30p Introducing the Psalms
Tuesday 24th:
9.30am Grounds Team; 11am SCP Service and Lunch; 7pm Bells
Wednesday 25th:
10am Babes in the Pew; 5.15pm Eucharist; 6pm Weddings Office
Thursday 26th:
10am-4pm Clergy Synod (Ewloe); 11am Eucharist
Friday 27th:
10am-12n Holocaust Memorial (Bodhyfryd); 1pm Funeral Ivor Hughes; 3.30pm Wedding Trail preparation
Saturday 28th:
10am-4pm Wedding Trail event
PULPIT EXCHANGE Today, an exchange of pulpits takes place across Wrexham Here at St Giles' the celebrant is the Rev'd. Sarah Errington, Vicar of St John's and St James' and the preacher Mark Rogers from the Salisbury Park URC, Wrexham, to both of whom we extend a very warm welcome.
CHRISTIAN UNITY The United Service for the Week of Prayer for Christian Unity takes place this evening at 6pm at Capel y Groes. The preacher will be the Rev'd. Richard Sharples .
INTRODUCING THE PSALMS The course led by our Vicar Jason continues tomorrow (Monday 23rd) at 6.30pm, when the focus will be on how to read a Psalm.
WEDDING TRAIL We will be hosting this event on Saturday (28th January), giving brides the opportunity to view a large number of stalls including details of the Anglican Churches in Wrexham, and of course St Giles' itself.
HOLOCAUST MEMORIAL DAY This will take place at the Memorial Hall, Bodhyfryd on Friday 27th January between 10am and 12noon.
MEN'S SOCIETY The next meeting will be at 7pm on Tuesday 7th February in the South Aisle. The speaker will be the Rev'd. Jane Stephenson, and her subject will be "Bargain Hunt"
100 CLUB December winners: 1st Emily Rood 2nd Mr Fred Palmer 3rd Mr Neville Morris
SUPPORTING ST GILES': We are grateful for all gifts. To give a oneoff gift: https://my.give.net/20192827/Donate/GiftDetails. Or a monthly gift here: https://www.give.net/20192827/regular
Sunday 22nd January 2017
The Third Sunday of Epiphany
SERVICES
8am Said Holy Eucharist
9.30am All Age Worship
11am Sung Holy Eucharist
All baptised Christians are welcome to receive communion with us, or you may come to receive a blessing.
HYMNS
312 Jesus calls us o'er the tumult
343 Be thou my vision
265 O thou, who at thy Eucharist didst pray
356 Father, Lord of all creation
COLLECT
Almighty God, whose Son revealed in signs and miracles the wonder of your saving presence: renew your people with your heavenly grace, and in all our weakness sustain us by your mighty power; through Jesus Christ your Son our Lord, who is alive and reigns with you, in the unity of the Holy Spirit, one God, now and for ever.
Old Testament Reading Isaiah 9: 1-4
Psalm 27
1 The Lord is my light and my salvation; * whom then / shall I / fear: the Lord is the strength of my life; * of whom then / shall I / be a‑/fraid? 4 One thing have I desired of the Lord / that I / long for: even that I may dwell in the house of the Lord / all the / days of · my / life, †5 To behold the fair beauty / of the / Lord: and to / seek him / in his temple. 6 For in the time of trouble he shall hide me / in his / shadow: yea in the secret place of his dwelling shall he hide me, * and set me up up‑/on a / rock of / stone. 7 And now shall he lift / up mine / head: above mine / ene · mies / round a‑/bout me. 8 Therefore will I offer in his dwelling an oblation with / great / gladness: I will sing and speak / praises / unto · the / Lord. 9 Hearken unto my voice O Lord when I / cry ‑ unto / thee: have / mercy ‑ up‑/on me ‑ and / hear me.
New Testament Reading 1 Corinthians1: 10-18
Gospel Matthew 4: 12-23
PLEASE STAY FOR REFRESHMENTS AFTER THE SERVICE
NEXT SUNDAY'S SERVICES: The Fourth Sunday of Epiphany
8am Said Holy Eucharist
11am Sung Holy Eucharist
Readings: 1 Kings 17: 8-16 Corinthians 1: 18-31 John 2: 1-11