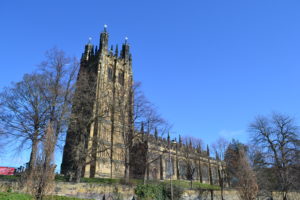 All baptised Christians are welcome to receive communion with us, or you may come to receive a blessing.
Services 8am Said Holy Eucharist 11am Sung Holy Eucharist 6pm Taize Prayer
Hymns
144 Come, let us join our cheerful songs
47 Brightest and best are the stars of the morning
50 The heavenly Child in stature grows
49 O worship the Lord in the beauty of holiness
COLLECT: Almighty God, in Christ you make all things new: transform the poverty of our nature by the riches of your grace, and in the renewal of our lives make known your heavenly glory; through Jesus Christ your Son our Lord, who is alive and reigns with you and the Holy Spirit, one God, now and for ever.
Old Testament Reading Isaiah 49: 1-7
Psalm 40 1 I waited patiently / for the / Lord: and he inclined unto / me and / heard my / calling. 2 He brought me also out of the miry pit,* out of the / slime and / clay: and set my feet upon a / rock and / ordered · my / goings. 3 And he hath put a new / song · in my / mouth: even a / thanks· giving / unto · our / God. 4 Many shall / see it · and / fear: and shall / put their / trust · in the / Lord. 5 Blessèd is the man that hath set his / hope · in the / Lord: and turned not unto the proud * and to such as / go a‑/bout with / lies. 6 O Lord my God, great are the wondrous works which thou hast done, * and thy thoughts which/are to/usward: there is none that can / be com‑/pared · unto / thee. †7 If I should de‑/ clare · them and / speak of them: they would be more than I am / able / to ex‑ /press. 8 Sacrifice and offering thou desirest not, * but mine / ears · hast thou / opened: burnt‑offering and sacrifice for / sin · hast thou / not re‑/ quired. 9 Then said I / 'Lo I / come: as in the volume of the / book · it is / written / for me; 10 'I delight to do thy will / O my / God: yea thy / law · is with‑/in my / heart.' 11 I have declared thy righteousness in the / great ‑ congre‑/ gation: Lo I will not refrain my lips O / Lord, and / that thou knowest
New Testament Reading 1 Corinthians 1: 1-9 Gospel Luke 2: 12-15

Monday 16th: 8.30am Ministry Team Prayers and Meeting; 10.45: Management Team Meeting; 1pm: Defibrillator Training; 6.30pm Introducing the Psalms
Tuesday 17th: 9.30am Grounds Team; 1pm Funeral Theresa Hopwood
Wednesday 18th: 10am Babes in the Pew; 12.30pm Funeral Lilian Reeves; 5.15pm Eucharist; 6pm Weddings Office
Thursday 19th: 10am Victorian Market Review; 11am Eucharist; 7pm Bells
NEXT SUNDAY'S SERVICES: The Third Sunday of Epiphany
8am Said Holy Eucharist 9.30am All Age Worship 11am Sung Eucharist
Readings Isaiah 9: 1-4 1 Corinthians 1: 10-18 Matthew 4: 12-23
TAIZE PRAYER Please note that this reflective service resumes this Sunday evening (15th January) at 6pm. It lasts about half an hour and consists of quiet Taize chants along with some short prayers and a period silence. All are welcome.
INTRODUCING THE PSALMS A course led by our Vicar Jason begins tomorrow (Monday 16th) at 6.30pm . It will continue for 10 weeks (excepting 20th February and 20th March) and each session will last for about an hour and a half. It is aimed at those who want to deepen their biblical studies and who come with an open mind. Please book with Ann via the Office if you would like to come.
PULPIT EXCHANGE Next Sunday (22nd January), an exchange of pulpits takes place across Wrexham Here at St Giles' the celebrant will be the Rev'd. Sarah Errington, Vicar of St John's and St James' and the preacher will be Mark Rogers from the Salisbury Park URC, Wrexham, to both of whom we extend a very warm welcome
DEFIBRILLATOR A Defibrillator will shortly be installed in the Porch , purchased by the Wrexham Parochial Education Foundation, with the cabinet funded by Wrexham Lions Club. We are grateful to both these bodies for their generosity. Initial training will be provided for the Management Team and Bellringers on Monday by Welsh Air Ambulance and will be updated by the suppliers thereafter. The defibrillator will be available to the Town Centre during the Church's opening hours. The Parish Church of St Giles, Wrexham A visible and active Christian witness at the heart of Wrexham
HOLOCAUST MEMORIAL DAY This will take place at the Memorial Hall, Bodhyfryd on Friday 27th January between 10am and 12noon.
MEN'S SOCIETY The next meeting will be at 7pm on Tuesday 7th February in the South Aisle. The speaker will be the Rev'd. Jane Stephenson, and her subject will be "Bargain Hunt".
100 CLUB December winners: 1st Emily Rood 2nd Mr Fred Palmer 3rd Mr Neville Morris
PLEASE STAY FOR REFRESHMENTS AFTER THE SERVICE
SUPPORTING ST GILES': We are grateful for all gifts. To give a oneoff gift: https://my.give.net/20192827/Donate/GiftDetails. Or a monthly gift here: https://www.give.net/20192827/regula