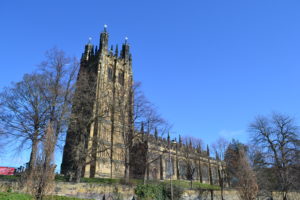 Monday 9th: 9am Ministry Team @St Mark's; 11am Management Team; 1pm: Funeral Brian Simons; 7.15pm Mothers' Union AGM

Tuesday 10th: 9.30 Grounds Team; 10am Diocesan Group (Glass Room); 1pm Memory Café; 7pm Bells

Wednesday 11th: 10am Babes in the Pew; 5.15pm Holy Eucharist; 6pm Weddings Office; 7pm PCC Meeting

Thursday 12th: 11am Holy Eucharist; 12pm Lunch; 7pm LBGT Open Table
Friday 13th:12.30pm Funeral Ian Ottley
TAIZE PRAYER Please note that this reflective service resumes its monthly place next Sunday evening (15th January) at 6pm. It lasts about half an hour and consists of quiet Taize chants along with some short prayers and a period silence. All are welcome
INTRODUCING THE PSALMS A course led by our Vicar Jason begins on Monday 16th at 6.30pm for 10 weeks (excepting 20th February and 20th March). It is aimed at those who want to deepen their biblical studies and who come with an open mind. Please book with Ann via the Office if you would like to come.
TCC AWARD The Guardian Charity Awards this year attracted over 700 applications and we are proud that TCC was one of the five winners. The award includes, in addition to a cash prize, access to very valuable support from major training organisations, and is a huge accolade for the work for social justice of this remarkable group to which we all at St Giles' belong
MOTHERS' UNION The AGM will be held on Monday ((th January) at 7.15 pm. Subscriptions (£18.50, indoor members £17.50). should be handed to Joanna in a named envelope before this. . New members are very welcome.
MEN'S SOCIETY There will be no meeting in January, but it is hoped that a visit to the Berwyn Prison may be arranged shortly.
SUPPORTING ST GILES': We are grateful for all gifts. To give a one off gift: https://my.give.net/20192827/Donate/GiftDetails. Or a monthly gift here: https://www.give.net/20192827/regular