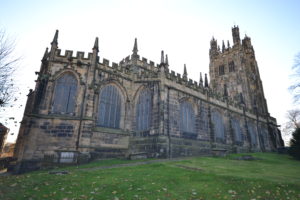 A VERY HAPPY NEW YEAR TO EVERYONE FROM THE CLERGY, CHURCH WARDENS AND STAFF OF ST GILES' PARISH CHURCH.
VIENNESE GALA CONCERT The New Sinfonia Concert, conducted by Robert Guy, takes place on Monday 2nd January at 3pm. Tickets are £15, concessions £10, Students £3 and can be obtained from the Wrexham Tourist Information Centre, or online at the New Sinfonia website.
ACTIVE AND VISIBLE We have welcomed in the region of 6000 people to St Giles' during December, through services for the community and schools and Christmas concerts, and through our own very well attended Christmas services. We continue to pray that our mission to be a visible and active Christian witness at the heart of this town will grow and flourish throughout 2017.
INTRODUCING THE PSALMS A course led by our Vicar Jason begins on Monday 16th at 6.30pm for 10 weeks (excepting 20th February and 20th March). It is aimed at those who want to deepen their biblical studies and who come with an open mind. Please book with Ann via the Office if you would like to come.
TCC AWARD The Guardian Charity Awards this year attracted over 700 applications and we are proud that TCC was one of the five winners. The award includes, in addition to a cash prize, access to very valuable support from major training organisations, and is a huge accolade for the work for social justice of this remarkable group to which we all at St Giles' belong.
MOTHERS' UNION The subscriptions are now due (£18.50, indoor members £17.50). Please hand to Joanna in a named envelope before the AGM on 9th January. New members are very welcome.
MEN'S SOCIETY There will be no meeting in January, but it is hoped that a visit to the Berwyn Prison may be arranged shortly.
LOGS Do you have a log-burner? Please see Amanda if you would like any of the logs off the windowsills.
SUPPORTING ST GILES': We are grateful for all gifts. To give a one-off gift: https://my.give.net/20192827/Donate/GiftDetails. Or a monthly gift here: https://www.give.net/20192827/regular