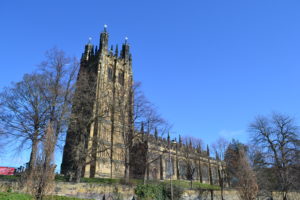 ALL SOULS' MEMORIAL This service will be held today (30th October) at 6pm, when we shall remember by name all those whose funerals have taken place at St Giles' during the past twelve months, and others whose names are given to us before the service. All are warmly invited to attend.
ORGAN RECITAL Our final Recital of the season takes place tomorrow when the recitalist is our own Chris Pilsbury. Lunch will be available from 12pm and the recital begins at 12.30pm. We are most grateful to Chris for arranging these enjoyable Recitals and to Stella and her Team for providing the excellent lunches.
MEN'S SOCIETY The next meeting of the Society will be held in the South Aisle at 7 p.m. on Tuesday, 1st November. Our speaker will be Dr. Doug Jones, and his subject will be "N.H.S. – Could do better".
RUSSIAN CHOIR We are pleased to be welcoming the Russian Choir who are going to perform on 2nd November at 7pm. Tickets which include a pre-concert reception are £10. If you also like to come to the 2-course meal following the concert, please sign the list at the back of the Church, remembering that numbers are limited. There is no charge for the meal, but a donation will be appreciated.
ME AND MY DAD This new venture, which begins on Saturday morning includes a Bap Breakfast, is an opportunity for fathers and children to have some fun time together. Capt. Chris Lawton from the Church Army is leading this.
VISITS Our visits this week include Families Connect from Victoria School who will be discovering some of the interesting history within and outside the walls of St Giles', and also a Diocesan group who will hold one of their regular meetings in the Glass Room.
100 CLUB For members with multiple numbers, who pay May/ November, the second half of the year is about due. Subscription envelopes are at the back of the Church.
SUPPORTING ST GILES': We are grateful for all gifts. To give a one-off gift: https://my.give.net/20192827/Donate/GiftDetails. Or a monthly gift here: https://www.give.net/20192827/regular