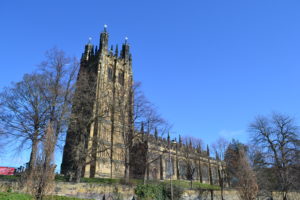 CHORAL EVENSONG This evening at 6pm we welcome the Laudes Choir to sing Evensong with us. Please come if you can to share in this rare opportunity.
ORGAN RECITAL Tomorrow's recitalist will be John Evans from Hoole Methodist, Chester. Lunch will be available from 12pm, and the recital will begin at 12.30pm.
FUNERAL The funeral of the late Brian Roberts will take place here on Wednesday at 12.30pm, and the interment of his ashes on Thursday morning at 10.30am.
VISIT On Thursday afternoon, we will be welcoming members of the Frodsham U3A (University of the Third Age) who are keen to learn more about this lovely Church and its history.
ALL SOULS' MEMORIAL This service will be held next Sunday (30th October) at 6pm, when we shall remember by name all those whose funerals have taken place at St Giles' during the past twelve months, and others whose names are given to us before the service. All are warmly invited to attend.
RUSSIAN CHOIR We are pleased to be welcoming the Russian Choir who are going to perform on 2nd November at 7pm. Tickets which include a pre-concert reception are £10. If you also like to come to the 2-course meal following the concert, please sign the list at the back of the Church, remembering that numbers are limited. There is no charge for the meal, but a donation will be appreciated.
MEN'S SOCIETY The next meeting of the Society will be held in the South Aisle at 7 p.m. on Tuesday, 1st November. Our speaker will be Dr. Doug Jones, and his subject will be "N.H.S. – Could do better".
SUPPORTING ST GILES': We are grateful for all gifts. To give a one-off gift: https://my.give.net/20192827/Donate/GiftDetails. Or a monthly gift here: https://www.give.net/20192827/regular