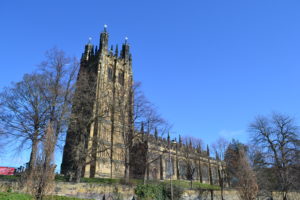 SANDS SERVICE The service at 3pm this afternoon is organised by the Wrexham Maelor Hospital Chaplaincy and offers the opportunity to commemorate infants lost through sudden and neo-natal deaths. There is a warm welcome for everyone.
ORGAN RECITAL Tomorrow's recitalist is Graham Eccles from St. Asaph. Lunch is available from 12pm amd the recital will begin at 12.30pm
MOTHERS' UNION At tomorrow evening's meeting, the speaker will be Dianne Excell, and her subject will be "A Village in Stitches".
MEMORY CAFÉ The next meeting will be on Tuesday at 1pm, and will include a visit by the Mayor of Wrexham. We hope to have some interesting activities, and tea and cake will be served also.
ST GILES' SCHOOL It will be a particular pleasure to welcome St Giles' VC Church in Wales Primary School here on Friday as they celebrate their Harvest festival.
STUDY GROUP There will be a class starting on Monday 17th October at 1.30pm. Please see Rev'd Phil Bettinson for further details.
CRAFT FAIR This will take place on Saturday 22nd October. There will be a variety of stalls and opportunities to do some early Christmas shopping. Refreshments will be available.
CARDS FOR GOOD CAUSES Ian Lucas MP will launch the opening on Saturday 22nd October. We will continue trading until 10th December.
HARVEST GIFTS Our Harvest gifts today will be donated to the Food Bank. We thank everyone who has contributed and express also our warm appreciation of the beautiful decorations which today enhance the glory of God in St Giles'.
SUPPORTING ST GILES': We are grateful for all gifts. To give a one-off gift: https://my.give.net/20192827/Donate/GiftDetails. Or a monthly gift here: https://www.give.net/20192827/regular