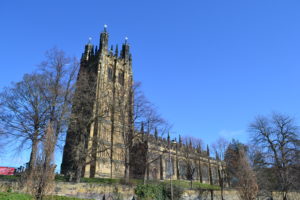 SONGS OF PRAISE This afternoon's BBC Songs of Praise at 4.15pm will feature an interview with our Vicar Jason about our own rare King James Bible, and how its language and phrases has impacted on Caribbean culture and music in particular.
ORGAN CONCERT The recitalists tomorrow (3rd) will be Emma Morley (soprano) with Paul Morley (organ) from Davenham.
MEN'S SOCIETY The meeting in the South Aisle on Tuesday (4th) at 7pm will be addressed by Ian Maycock on the subject of "Bells"
VISITS This week we welcome four separate groups from Coleg Cambria who will be climbing the Tower, and also Borras Park School who will be helped by the RE Centre in their studies of the Tudors.
HARVEST DECORATION Nest Sunday we will be celebrating Harvest, and on Friday between 10am and 3pm the great work of decorating St. Giles' will take place. Everyone is welcome and all contributions to the floral arrangements will be gratefully received. Please see Maureen, Ruth, Amanda or Vera for details.
HARVEST GIFTS Contributions for the Food Bank will be much appreciated: Tinned goods (meat, fruit, vegetables, fruit juices, rice pudding) as well as biscuits, sugar, tea, coffee and UHT milk are particularly welcome.
WINE TASTING The event "Fruits of the Vine" takes place here on Friday (7th October). The cost including food is £10. Please see Stella or the Wardens for tickets.
SAM ON KILIMANJARO Sam Kelly, sponsored by several member of the congregation, has reached the summit of Kilimanjaro and a photograph at the back of the Church proves it! He thanks everyone for the generous donations to his charity.
FLOWERS The Flowers Team continues to be very grateful for all donations for arrangements, including those in memory of loved ones, which are usually placed on the relevant date on the High Altar.
ADVANCE NOTICES The Speaker at the Mothers' Union meeting on Monday 10th will be Diane Excell about "A Village in Stitches"; the Craft Fair will be from 10am-3pm on Saturday 22ndOctober.
SUPPORTING ST GILES': We are grateful for all gifts. To give a one-off gift: https://my.give.net/20192827/Donate/GiftDetails. Or a monthly gift here: https://www.give.net/20192827/regular